Archive for the 'Make-up' Category

Vandaag een variatie op mijn everyday look! Ik blijf mijn everyday look mooi vinden, maar het verveelt ook. Ik probeer verschillende dingen uit. Zo min mogelijk make-up, heftigere lipstick (red for the win!) of juist een heftigere ooglook. Deze look is subtiel, maar de aandacht gaat naar het blauwe lijntje onder mijn ogen. Read the rest of this entry »

Vorig jaar was eigenlijk mijn everyday look ook tegelijkertijd mijn kerstlook, maar sst, dat vergeten we even. Dit jaar heb ik een kerstlook gemaakt omdat ik het leuk vind om te doen. Dit is niet mijn kerstlook voor dit jaar, maar wel de tutorial. Ik denk dat ik deze look naar mijn gala ga dragen, wellicht een variant hiervan. Vorig jaar waren red lips het accent, dit jaar the eyes!
Read the rest of this entry »
Soms heb je zin in iets anders. Ik heb mijn everyday look gevonden, die ik gemakkelijk elke dag opbreng. Toch begon het te vervelen, ik wilde een verandering. Mijn missie om het Sleek Storm palette niet te gebruiken is helaas niet gelukt, maar de bruintinten overheersen niet in deze look. Groen is de kleur, omdat ik dat mooi vind staan en het pastte bij de outfit die ik die dag aanhad.


Read the rest of this entry »
In past times when one lived in contact with nature, abstraction was easy; it was done unconsciously. Now in our denaturalized age abstraction becomes an effort.
Ik zei het al op Twitter, maar ik vind het publiceren van dit artikel best spannend. Het is iets heel anders dan jullie van mij gewend zijn, maar ik vind het tof. Onder welke categorie dit valt dat weet ik niet, het is een soort van middenweg. Fotografie is het net niet, maar ik heb de foto's bewerkt om alles het beste tot zijn recht te komen. Deels ook voor mijn portfolio, zodat het iets gewaagder is dan een standaard foto.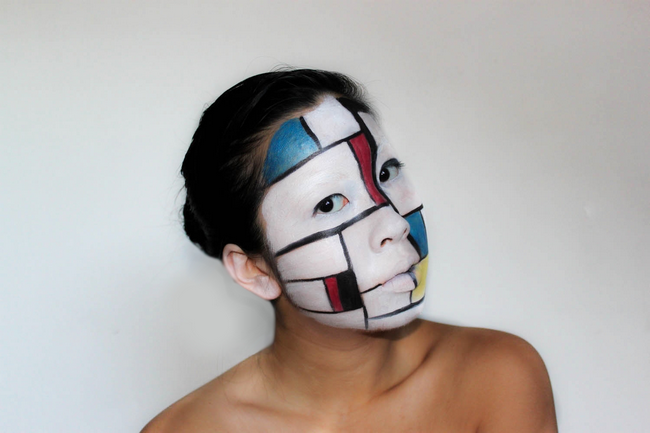 Read the rest of this entry »

Dag in, dag uit gebruik ik mijn Sleek Storm Palette, gewisseld met Wedge en Brun van MAC omdat die kleuren precies hetzelfde zijn. Het is lekker makkelijk en snel te maken omdat ik de look bijna elke dag maak. Ik probeerde de look ook uit met het Au Naturel palette en het lukte! Read the rest of this entry »

Carmex voor op mijn lippen, ik kan niet meer zonder! Elke avond voor het slapengaan smeer ik een laagje carmex en de ochtend daarop voelen mijn lippen fijn zacht aan. Voordat ik naar Hong Kong ging raakte mijn twee carmex lippenbalsems in tube en stick op, dus ik moest een voorraadje inslaan. Deze keer besloot ik voor meer variatie te gaan. De buit? Een potje, een tube en een stick in drie verschillende smaken: normaal, strawberry en cherry.
Read the rest of this entry »

Dit vond ik een leuke tag! Ik heb al een keer uitgerekend hoeveel mijn outfits kosten (misschien tijd voor een deel twee?) en nu ga ik uitrekenen hoeveel mijn gezicht kost! Nou is het niet zo dat ik veel op mijn gezicht smeer. Geen foundation voor mij, ik gebruik alleen concealer onder mijn ogen. Voor de rest gebruik ik oogmake-up en elke dag een leuke lipstick. De lipstick en oogmake-up verschillen natuurlijk altijd, maar ik heb producten die ik vaker pak dan normaal.
Read the rest of this entry »